Taboo Soundtrack is the music score from the BBC and FX original series Taboo.
Taboo's Theme Song
Edit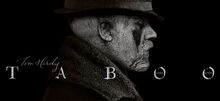 The theme is called "Taboo", and was written by composer Max Richter who also wrote the score (background music) for the entire series. The theme sounds a bit different from week to week. In the first episode, the theme music was played on an instrument called a celeste, which resembles a piano but makes a sound more like glockenspiel (albeit with a slightly softer noise). However, future weeks used a string arrangement instead, with the childlike celeste version only returning for the finale. [1]
Taboo's Score
Edit
Episode
Title
Performer
Episode 1
Taboo Theme Song
L'Orchestra Cinematique
(composer: Max Richter)

To be Added

episode 2
Symphony No. 6 in F Major, Op. 68 "Pastoral"
(I. Allegro Ma Non Troppo)
LONDON SYMPHONY ORCHESTRA
& JOSEF KRIPS
Zilpha Geary and others gather to hear Beethoven's latest symphony when James Delaney arrives, sensing his prescence then spoting him in the room mirror Zilpha silently motions for him to leave; James and Zilpha meet outside the tension between them escalates until Zilpha removes herself. [2]
Episode 2
Symphony No. 6 in F Major, Op. 68 "Pastoral"
(IV. Allegro)
LONDON SYMPHONY ORCHESTRA
& JOSEF KRIPS
The assassin sent to kill James follows after him dresses as a woman and attacks him, but James manages to kill him before the assassin can kill him though James is left with an injury of his own; End credits. [2]
Episode 3
How Can I Keep My Maidenhead
TABOO CAST
James arrives at a Molly house where he finds Michael Godfrey crossdressed, who runs away from James as soon as he notices him. [2]
Episode 4
Streichquintett No. 60 in C Major,
Op. 33 No. 6, G. 324: IV. Los Manolos. Allegro vivo
MAYUMI SEILER, SILVA WALCH,
DIEMUT POPPEN, RICHARD LESTER & HOWARD PENNY
At the Royal Society, George Cholmondeley hosts a Chemistry Lecture which catches the eye of Bluestocking, James watches from the back of the lecture hall. [2]
Episode 5
To Be Added
To Be Added

To Be Added

Episode 6
To Be Added
To Be Added

To Be Added

Episode 7
To Be Added
To Be Added

To Be Added

Episode 8
To Be Added
To Be Added

To Be Added
Pending the Taboo's Soundtrack to be released officially, or the theme song and opening credits on the official YouTube channel, hereafter are listed the two versions of the theme song coming from a search on YouTube using one of the many search engines. Copyright to their respective owners.
References
Edit
Ad blocker interference detected!
Wikia is a free-to-use site that makes money from advertising. We have a modified experience for viewers using ad blockers

Wikia is not accessible if you've made further modifications. Remove the custom ad blocker rule(s) and the page will load as expected.